About Almannarómur
Almannarómur is a centre for language technology. In accordance with a 2018 agreement with the Ministry of Education, Science and Culture, it is responsible for implementing the Icelandic Language Technology Programme. This formal work on the core tasks of this five-year programme began on 1 October 2019. The programme, including the operation of Almannarómur, is funded by the government.
The President of Iceland, Guðni Th. Jóhannesson, and former President and UNESCO Goodwill Ambassador for Languages, Vigdís Finnbogadóttir, are Almannarómur's patrons.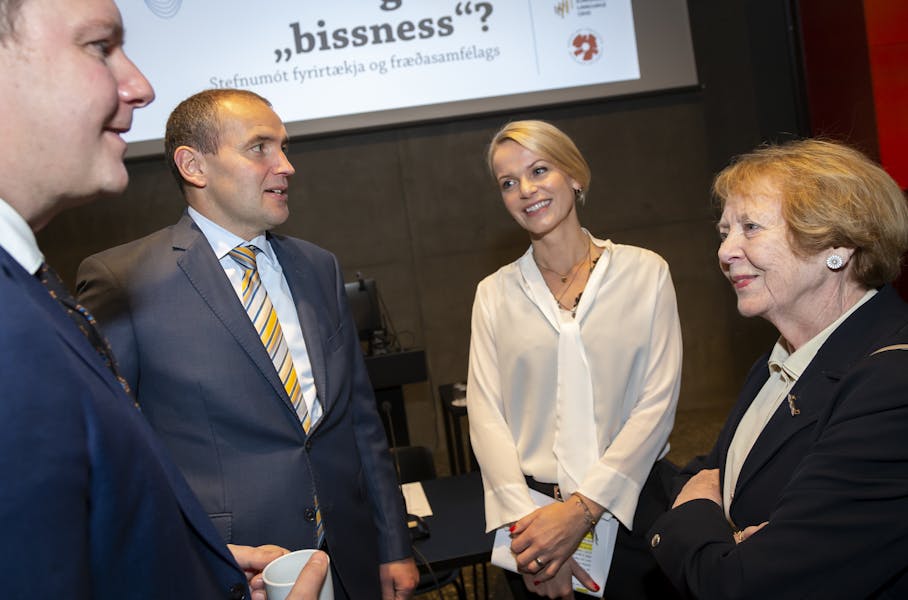 Objectives
To ensure the equal states of Icelandic in digital language technology
To protect the Icelandic language
To ensure that individuals and organisations have access to language technology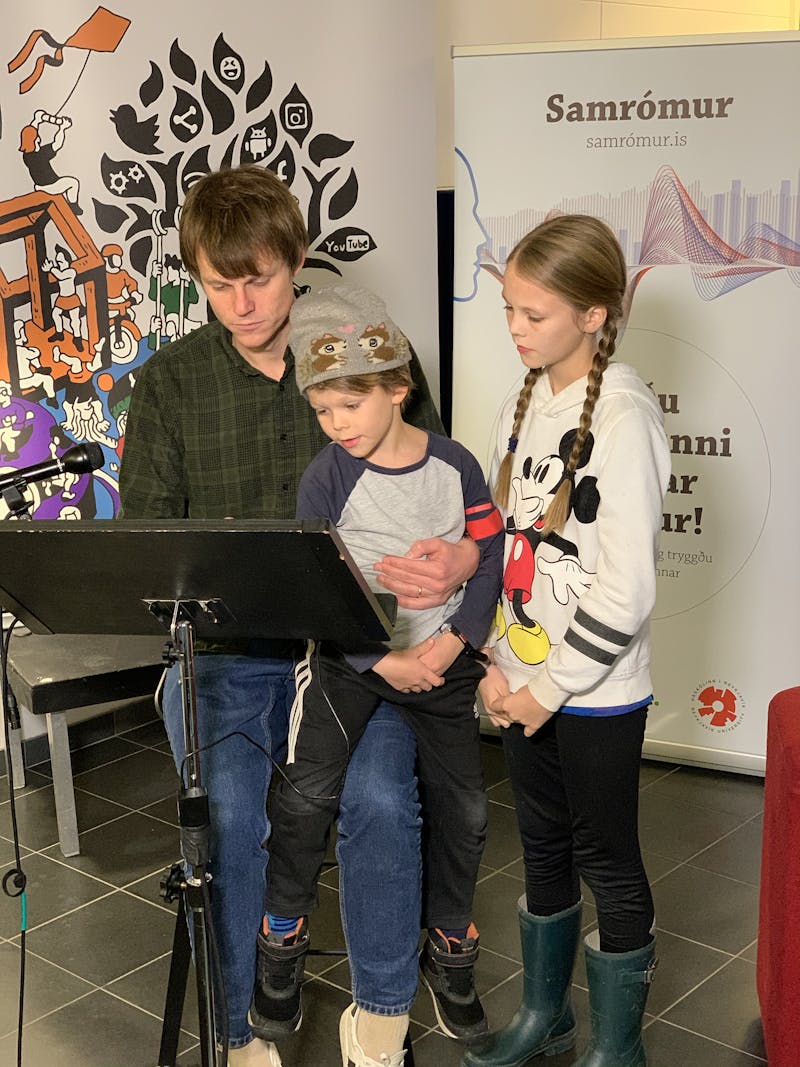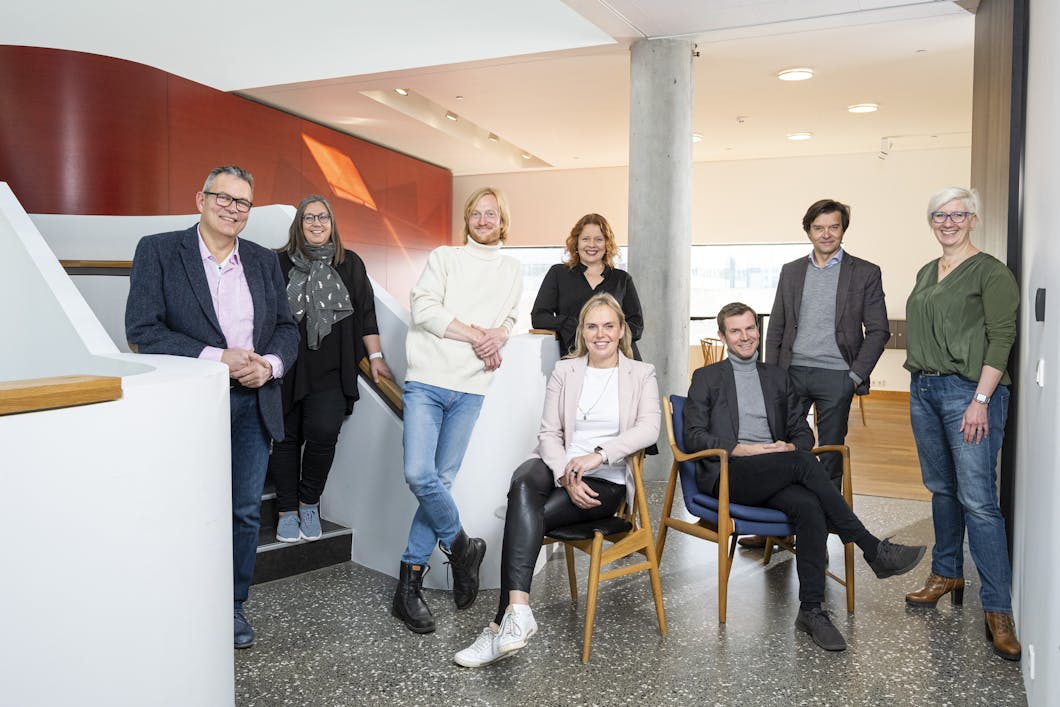 Board
The Board was elected at the Representative Council's Annual General Meeting on 15 June 2021.
Chair: Stefanía Guðrún Halldórsdóttir
Other members: Birna Ósk Einarsdóttir, Björgvin Ingi Ólafsson, Guðmundur Freyr Magnús, Magga Dóra Ragnarsdóttir, Sigurður Nordal, Snævar Ívarsson.
Executive Director: Jóhanna Vigdís Guðmundsdóttir (since 1 December 2018).
Alternate members: Pétur Th. Óskarsson, Ragnheiður Hrefna Magnúsdóttir and Snævar Ívarsson.
Jóhanna Vigdís Guðmundsdóttir, Execute Director of Almannarómur

Stefanía Guðrún Halldórsdóttir

Birna Ósk Einarsdóttir

Björgvin Ingi Ólafsson

Guðmundur Freyr Magnús

Magga Dóra Ragnarsdóttir

Sigurður Nordal

Pétur Þ. Óskarsson

Snævar Ívarsson

Ragnheiður H. Magnúsdóttir

Jóhanna Vigdís Guðmundsdóttir, Execute Director of Almannarómur
Council of Representatives
Almannarómur is a non-profit, public foundation. Its Council of Representatives monitors its activities and acts as a link between the Board and the parties involved. The Council of Representatives elects the Board and account auditors.
Örn Úlfar Sævarsson is Chair of the Council of Representatives.
Founding members
Advania, Arion bank, the Icelandic Association for the Visually Impaired, Borgun hf., Creditinfo Lánstraust hf., Reykjavik University, Hugsmiðjan ehf., Icelandair Group, Íslandsbanki hf., Já Upplýsingaveitur hf., Landsbankinn, Nýherji hf., Orkusalan ehf., Rarik ohf., the Confederation of Icelandic Employers, Sjóvá-Almennar tryggingar hf., the Árni Magnússon Institute for Icelandic Studies, Tryggingamiðstöðin hf., Tæknivörur, Vátryggingafélag Íslands hf., Ölgerðin Egill Skallagrímsson ehf. and the Icelandic Disability Alliance. Hið íslenska bókmenntafélag, Snjallgögn, the University of Iceland and Miðeind joined the group later.
Icelandic language technology development
A total of ISK2.2 billion has been provided to fund the first phase of Icelandic language technology development. Of that, more than ISK1.3 billion is earmarked for research and development of core language technology tasks: the core solutions on which all further Icelandic language technology developments will be based.
Core tasks
Almannarómur manages these funds and contracts operators to develop core solutions. The core tasks are:
Speech recognition – technology that is able to listen to and understand Icelandic
Speech synthesis – technology that is able to read and speak Icelandic
Machine translation – technology to translate text to and from Icelandic
Language and style checking – technology to correct written text 
Language resources - Icelandic language data and resources
Quality control
Almannarómur is responsible for ensuring that the language technology programme's products can be used by entrepreneurs, organisations, institutions and individuals to develop Icelandic language technology solutions for end-users. To that end, Almannrómur has established an Expert Panel of internationally renowned language technology experts:Bente Maegaard, Kadri Vider and Steven Krauwer. The Expert Panel's role is to advise Almannarómur's Executive Director on the technical implementation of core tasks; it also carries out a detailed review of the co-operation agreement between Almannarómur and the SÍM Consortium for Language Technology,in relation to the five-year language technology programme, and international developments in language technology solutions. In addition, the Expert Panel reviews the SÍM Consortium's progress reports before payments for implementation are carried out.